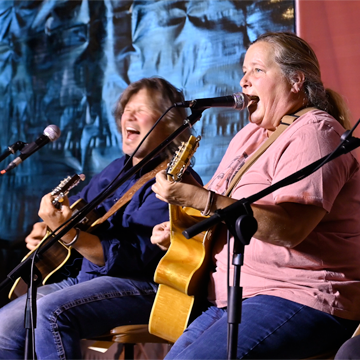 7th Annual Red Lodge Songwriter Festival
The 7th Annual Red Lodge Songwriter Festival is located in the beautiful mountain community of Red Lodge, Montana
$20 - $195
Thu, Jun 22 at 5:00 PM (MDT) - Sat, Jun 24 at 10:00 PM (MDT)
Various Venues through out Downtown Red Lodge, Red Lodge, Montana
{{ directions }}
Various Venues through out Downtown Red Lodge
120 S. Broadway
Red Lodge, Montana 59068
Welcome to the Red Lodge Songwriter Festival. For three days in June the streets of Red Lodge, bars, cafes, and parks become a gathering place for songwriters from Montana, Nashville, and around the country. Park benches, bar stools, hotel lobbies, and parks become picking sessions. This is the place displaying songwriting at its highest level in the amazing mountains of Red Lodge, Montana.
The 7th Annual Red Lodge Songwriter Festival, June 22-24, 2023, will feature great songwriters, new venues, and amazing opportunities to get up and close with these amazing songwriters. Nashville Hit Songwriters and Rising Stars will play their songs and tell the stories behind the songs.
"I've been playing songwriters festivals all over the country for the last 20 years and the Red Lodge Songwriter Festival is hands down one of my all time favs. The town is a gem in the Rockies, the people who support it are generous and enthusiastic, the weather is perfect and the music is awesome! Doesn't get any better than Red Lodge Songwriter Festival" Brett Jones, Hit Songwriter
Twenty five live performances, twenty four songwriters, eight downtown venues, a songwriting contest. In addition to entertainment and education, this festival supports music in our public schools. Over the last several years the RMSWF, Inc. has donated more than $100,000 to fulfill our mission.
All we're missing is you. We would like to invite you to Red Lodge and our surrounding mountains we are proud to call home. We look forward to sharing this incredible weekend of songwriting, creativity, and music with you.
There's something for everyone. See you in June!
Location
{{ directions }}
Various Venues through out Downtown Red Lodge
120 S. Broadway
Red Lodge, Montana 59068